Safety when Working on or near Electrical Installations (L-AUS)
EN 50 110, edition 2020 - Sprog:
The course ensures that after its completion the student will be able to work safely on or near electrical installations, know how to avoid electrical hazards, and how to protect against electrical hazards. The course has been developed by leading Electrical safety specialists with a high score of participant satisfaction. It has been designed to address electrical safety from a more practical view.
Adgang: 45 Dage
The course will expire 45 days after the purchase or registration of the user.
Pris: kr. 600,-
Including taxation, the total checkout price will be 750 DKK.
Varighed: 3 Timer
This is an approximation in which the course can be completed.
On successful course completion, an email with an attached certificate is automatically sent to the student and/or the Course Education Manager (CEM).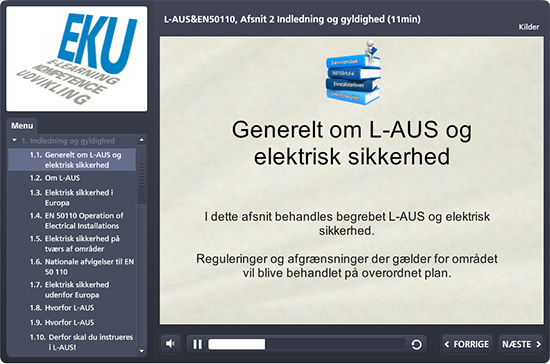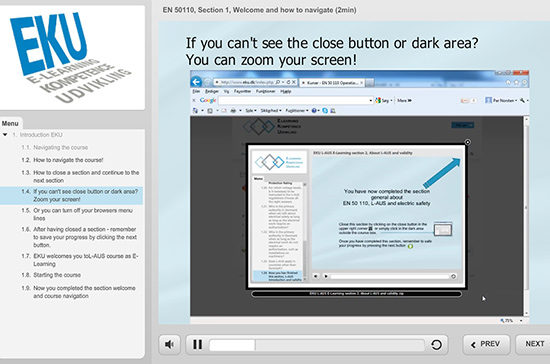 EN 50 110 is the European norm for operation of electrical installations. All Cenelec countries are committed to implementing the norm into national regulation.

For work on or near electrical installations in Denmark, the Electrical Safety Act with accompanying executive orders from the Danish Safety Technology Authority and the Working Environment Act with accompanying executive orders, instructions and WEA Guidelines from the Danish Working Environment Authority apply. Both the standard and the Danish regulation is included in the course, and the certificate states qualification on both Danish regulations and European regulations.
Course Structure
The online course contains these sections:
1. Welcome and Course Navigation.
2. The regulations that Apply.
3. The Dangers of Electricity.
4. The Basic Principles of Electrical Safety.
5. Operational Procedures.
6. Working Procedures - General Aspects.
7. The Dead Working Procedure - working de-energized.
8.The Live Working Procedure - working energized.
9. Working in the Vicinity of Live Parts.11. The Maintenance Working Procedure
11. First Aid in case of Electrical Accidents.
12. Final test (80% correct answers is required for certification).